Paws In Print Newsletter – Fall Edition 2016


Friends and Family,
Wow! Its finally cooling down. After a long hot summer, one of the hottest ones I can remember, the weather outside is beautiful! Fall began with a flourish with Hurricane Matthew. Lucky for most of us in the center of Florida, it left us mostly undamaged, and led the way for a cooler and drier fall. The cooler weather not only brings us much needed relief, but seems to energize our pets. It also heralds the beginning of the holiday season, so let Mobile Vet to Pet be the first to wish you a Spooktacular Halloween and a Delicious Thanksgiving.
Thank you,
Dr. Sheahan and the Mobile Vet to Pet Team
Boo-tiful or Frightful?!

by Dr. Brianne Nelson
Costumes are fun, but may be especially scary to some pets!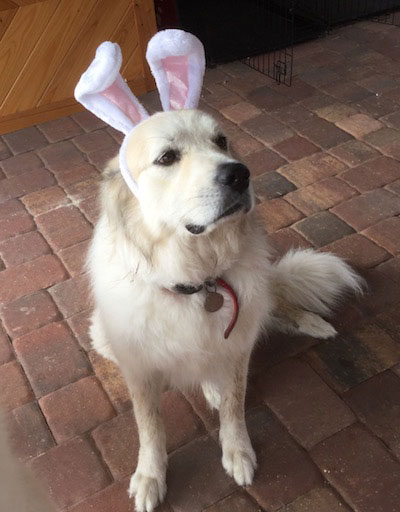 Pets may not recognize friends or even family when you are in costume. To help them deal with your sudden transformation into a ghoul or goblin, you may want to let your pet smell the costume ahead of time, or change into your costume after you've left the house.
This is also true of their reaction to other animals in costume. Their best buddy from the dog park or down the street may look very different in costume, so make sure that your pet does not feel trapped, overwhelmed or frightened during the holiday festivities.
Although we think pets are cute in costume, please remember that your pet may not be as impressed with the costume you've picked out. Costumes should be comfortable and non-restrictive. Use caution if you expect your pet to wear a mask, as it might be frightening to not have their normal range of vision. Some pets might even decide to chew or nibble on their costumes, and should be supervised while all dressed up. If your pet is not on board with your costume plans — themed bandanas are the perfect way to be festive while still being low-key!
A Safe and (not so Scary) Howl-O-Ween

by Dr. Brianne Nelson
Friends and family coming over for Halloween Parties and opening the door to Trick-or-Treaters is part of the fun of the holiday; but it also offers the opportunity for pets to slip out an open door. Pets that make it outside might be lost or get hurt. Think about crating or keeping pets in a closed room with a calming environment until things are back to normal. For their safety, outside pets should be brought inside for the holiday.
If your pet is going Trick-or-Treating with you, realize that they may react to the festive energy of the holiday, and may need a bit more reassurance or patience from you. Don't forget the most important part of any good Halloween costume for a pet is a secure collar with a current rabies tag. Also a tag with your pet's name and info and a microchip to help them get home wouldn't hurt!
Teach Them Tricks, But Guard The Treats!

by Dr. Brianne Nelson
Candies containing chocolate or xylitol (an artificial sweetener) are toxic to pets. Raisins can cause kidney failure in dogs. Candy wrappers can also cause problems for your dog or cat. Usually pets can experience vomiting and diarrhea when getting into treats they shouldn't, but sometimes gastrointestinal signs are severe enough to necessitate a trip to the Emergency clinic. For your pet's safety, make sure he/she does not get into the Halloween loot!
Also consider that some Halloween decorations may be tempting to "taste", and may cause a choking hazard. Glow sticks and jewelry can cause mouth irritation and drooling, and seem to be very intriguing to pets. Lit Jack-O-Lanterns are especially concerning since they may be knocked over or cause burns to sensitive noses, tails and whiskers.
All About That Baste!

by Jacqueline MacKinnon
Tips for an enjoyable Thanksgiving with your pets.
Thanksgiving is one of my family's favorite holidays! My entire family, including all of our pets, get together every year. Below are some tips to help you, your family and all of your furry children enjoy Thanksgiving as well. By taking precautions you can avoid unpleasant moments that your pets may encounter. Table food is one of the biggest threats to your pet during this time.
The aromas that fill your house during Thanksgiving not only make you hungry but are also very enticing to your pets. Butter, bacon, gravy and even turkey scraps are potentially harmful to them. Table scraps can cause severe stomach upset, meat bone fragments can cause choking and some foods are just dangerous to your pet in general. Rich foods, such as turkey, onions and mushrooms can cause GI upset including vomiting and diarrhea. In the worst case, these foods can lead to pancreatitis, which is an inflammation of the pancreas and can result in vomiting, diarrhea, loss of appetite and abdominal pain. Raisins, which are sometimes used in stuffings, can cause renal failure. Keep in mind these symptoms may not be immediate and can become evident up to four days after ingestion.
Prevention:
Watch your pets closely; if they seem to be getting a little too close to the food be sure to remove them. Be aware of the places your pets usually spend their time in relation to where you are placing the food. A Thanksgiving buffet can be vulnerable to counter surfing pets.
Set some ground rules for your company. Ask your guests not to give any scraps to your pets; Thanksgiving food is meant to stay on the table not under the table.
Be sure to keep the trash out of pets reach. Wrap bones and scraps up prior to throwing them away. What your pet find delicious may be very harmful to them.
Consider an alternative:
You can make our pet their very own Thanksgiving dinner! You can boil chicken as well as some pet approved vegetables, and let them enjoy their very own special meal. Remember turkey is not like chicken, turkey is richer than chicken.
If you feel they are being excluded, try getting them something to keep them busy such as a Kong ball, treat puzzle or other fun toys.
Showing love to your pet doesn't have to include giving them human food, a quick squeeze or a treat should do the trick. We promise they will still love you even if you don't share that piece of turkey.
Be sure to contact your veterinarian right away if you think your pet has eaten something harmful or foreign. Be sure to note what, and how much, was eaten as this will help your veterinarian decide the best course for treatment. Pet poison hotline is available 24/7 and can be reached at 855-764-7661. The Veterinary Emergency Center is open on all holidays and can be reached at 407-644-4449. We wish you, your family and all of your pets a safe and enjoyable Thanksgiving!